The funniest thing happened this morning! Teagan followed Mason into the bathroom when he had to pee. She then started to copy him...I about died laughing! He pulled up his shirt, down his pants and proceeded to do his business....she pulled up her shirt and tried to take off her diaper! I sprinted to get my camera..but by the time I got back, Mason had finished and wouldnt keep up the pose. I did get pics of Teagan though!! (who wants to be the one to explain to her that she doesnt have a penis?)

Here she is (still holding up her shirt)getting some toilet paper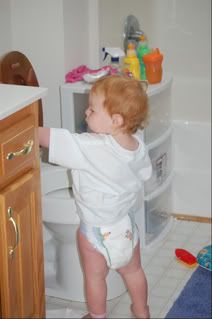 Here she is watching the toilet paper go down,down,down....